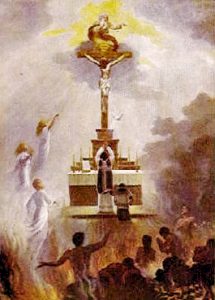 教友給煉靈求彌撒,
到底給神父多少錢才合適?教會有規定嗎?
"我想給去世的親人求彌撒?你說給神父多少錢合適呢?"
"神父,我為某某煉靈求彌撒,這20塊錢 您 別嫌少啊。"
"神父,這100塊錢,來兩台彌撒,一台給若瑟,一台給瑪利亞。"
其實,這不是 笑話,而是實際发生在我們教友信仰生活中的事情。
彌撒獻儀是我們 天主教 會自古以來的重要傳統,但彌撒絕不是 買賣,更不是 交易 —— 好像給的錢多,彌撒就更加有效,好像請主教做台彌撒,就比某個神父的效果更好,某個煉靈就更能得救 ......
我們必須要清楚,彌撒不是屬於我們個人的,而是祭獻 天主 的最高敬禮。
說真的,天主 不缺錢!天主 缺的只是我們那顆虔敬而真誠的心!天主 看人心,然而我們求彌撒時往往又把 天主 忽略了,好像我們把錢給神父了,神父就是主宰那個人得救與否的人,一切就萬事大吉了,這是極為錯誤而不負責任的做法。如果我們自己都不為自己的意向向 天主 祈禱,那是多麽可悲啊!
天主 真的看人心,而不是看獻儀的數額。並且,很重要的,只有 天主 才有權決定誰能夠得救,所以我們一定要避免那種"強迫"或是"挑戰" 天主 的行為,把自己變成一個主宰。天主 的無限仁慈,就是每個人得救的根本!
說真的,其實我們如果真的因為家庭條件不好,拿不出獻儀,神 父也絕不會拒絕為我們的意向做彌撒(除非他已經不能稱職為一位神父)!
為煉靈誦
懇求天主,憐憫煉獄靈魂,使他們早日脫離煉苦,到禰台前永遠享福。阿們。
為凡諸信者靈魂誦
天主 生人,欲人在世立功,膺主預備之真福。我今為已亡煉獄眾靈,在世識奉真主,信從聖教。求主垂憫寬赦,免其苦難,命天神慶報出期。又賜我今世痛悔往罪,不敢再犯,脫身後永苦,偕諸信者,享見天主聖容。阿們。
Poem by Mother Mary of St. Austin
(Foundress of the Helpers of the Holy Souls)
O! It were bliss
After life's plenitude of miseries
And death's alarms
To lie within the everlasting arms
Awakened by God's kiss.
Heaven's joy were all in this,
To lose all pain and dread,
And be thus comforted
By Love's own kiss – the kiss that wakes the dead.
For He Himself will wipe away all tears;
The pent-up grief of years
Shall sob itself to rest
Childlike, upon His breast.
With more than mother's love
He shall caress
And bless
With joys, all joy above,
The comfortless.
Earth could not weep
To pass through death's eclipse,
Could she but know Whose lips
Would raise her from that sleep.
Ye, who have understood,
Be not afraid,
Nor dread
It is God's Kiss – God's kiss that wakes the dead.