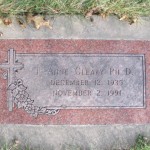 We experienced extreme sorrow through this accident, losing our sister at the best time of her life.
She, our greatest honour, had a far-reaching impact on her family, neighbours, her academic colleagues throughout the country, students and relatives. She was respected and loved by everyone who met her. Our family came here from far away, not only to share sorrow with numerous friends of our sister, but also to share the good memories left by her.
When we met together in sadness and remembrance, we were reminded of your family and prayed for you, because this weekend must be sorrowful and shocking for you.
Anne deeply believed in love and forgiveness. We write this letter to you when you are sad, because we would like to share your sorrow and we wish that you would pray with us for love for one another. At this moment of sadness, Anne must hope that our hearts are filled with sympathy, forgiveness and love. We know that at this only your family can be more sad than we are.
We are willing to bear this sadness with you together, so that we can get comfort and support from each other. Anne must hope so!
Sincerely yours.
Doctor Anne Cleary's brothers,
Frank, Mike and Paul Cleary
我們經歷了突發的巨痛,我們在姐姐一生中最光輝的時候失去了她。我們深以姐姐為榮,她有很大的影響力,受到每一個接觸她的人的尊敬和熱愛|她的家庭、鄰居,她遍及各國學術界的同事、學生和親屬。我們一家從很遠的地方來到這裏,不但和姐姐的眾多朋友一同承擔悲痛,也一起分享姐姐在世時所留下的美好回憶。當我們在悲傷和回憶中相聚一起的時候,也想到了你們一家人,為你們祈禱。因為這個周末你們肯定是十分悲痛和震驚的。安最相信愛和寬恕。我們在你們悲痛時寫這封信,為的是要分擔你們的悲傷,也盼你們和我們一起祈禱彼此相愛。在這痛苦的時候,安是會希望我們大家的心都充滿同情、寬容和愛的。
我們知道,在此時比我們更感悲痛的,只有你們一家。請你們理解,我們願和你們共同承受這悲傷。這樣,我們就能一起從中得到安慰和支持。安也會這樣希望的。
誠摯的安.柯萊瑞博士的兄弟們 弗蘭克∕麥克∕保羅.柯萊瑞
Note:
Anne Cleary was shot to death by a Chinese student on University of Iowa campus, her brothers wrote this letter to the Chinese student's family. Let's "deeply believed in love and forgiveness".